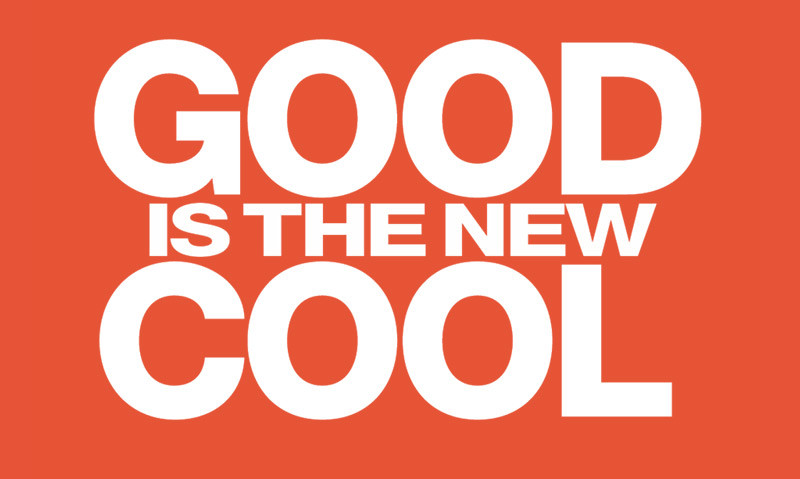 'Against the ruin of the world, there is only one defense: the creative act.'
– Kenneth Rexroth
Good is the New Cool presents a new kind of gathering, providing attendees from the worlds of brands, non-profits, and culture with inspiring talks, learning experiences, and a warm, inclusive community.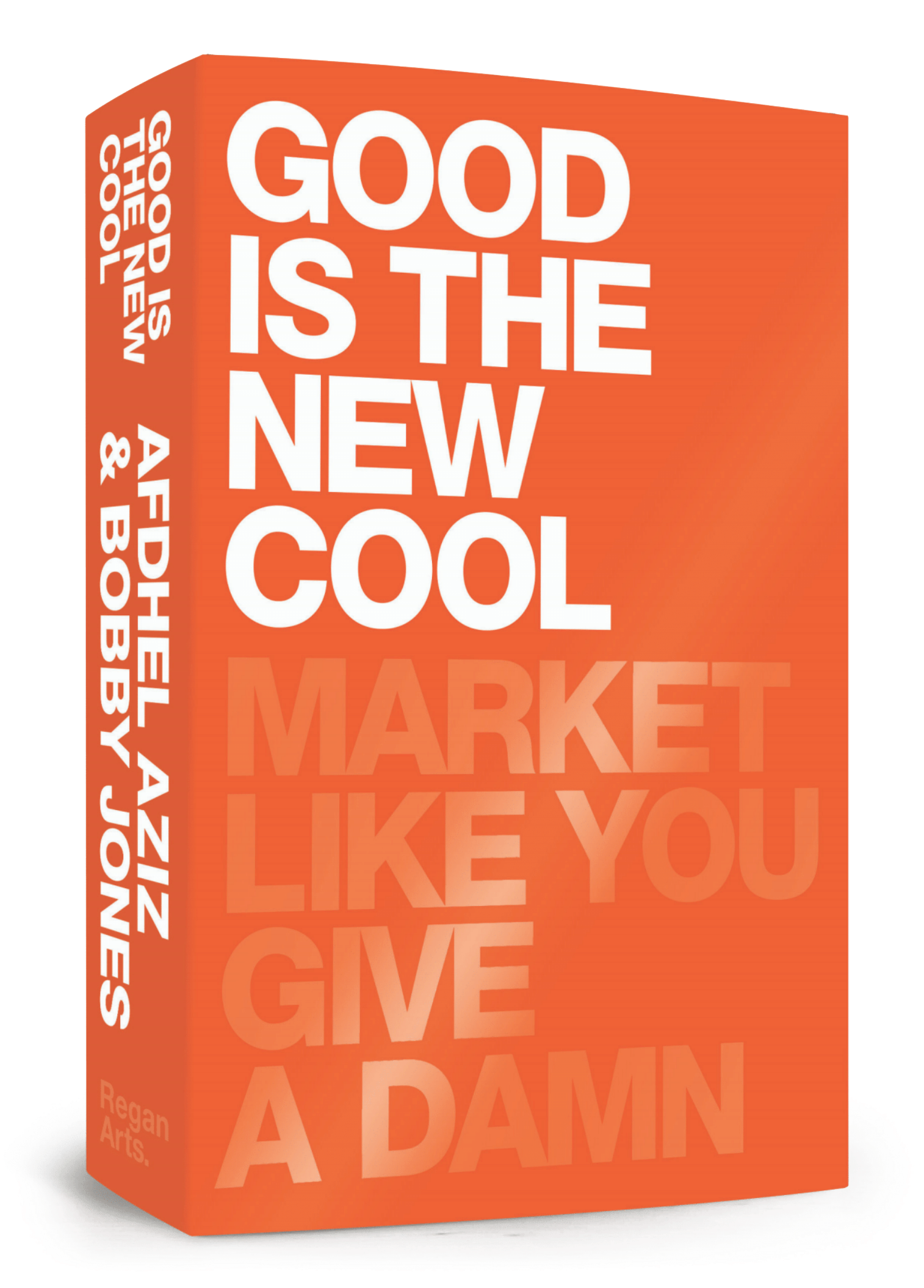 MARKET
LIKE YOU
GIVE A DAMN.
Afdhel Aziz and Bobby Jones' book, 'Good is the New Cool,' has gained worldwide recognition since being published in 2016. This March, they are taking it to the next level with Good is the New Cool LA 2019.
The book not only inspired global change-makers in the worlds of business, philanthropy, and culture to 'think transformationally, not transactionally,' but also in a way that optimizes the lives of people.
Learn more about the book
Learn more from podcasts
For the past three years, we have been on a journey to build a Good is the New Cool gathering because we are passionate about helping business leaders and culture creators use their talents, resources, and influence to impact a greater good. Our mission is to empower you with the tools and resources you need to be world changers. Thanks to the bestselling book 'Good is the New Cool', we have met and helped tens of thousands of people around the world to make money and do good while harnessing the power of cool.
In the next step in this journey, we are excited to join forces with our partners-in-good, The Participation Agency, to bring members of this movement together. On Saturday, March 2nd at the TOMS headquarters in Los Angeles, we are inviting you to join 150 extraordinary citizens – all united by the desire and the courage to transform our world for the better.
Sparked by inspiration from our curated speaker lineup, our immersive activities and performances, we want you to walk away with new ways of thinking, proven models of success, practical tools, and the essential allies you need to help bring those ideas to life.
We invite you to join us. Let's change the world.
Afdhel, Bobby, Jessica & Ruthie
JOIN OUR FORCE
FOR GOOD.
RESERVE YOUR SPACE NOW.
DON'T MISS OUT
ON THESE TALKS.
RESERVE YOUR SPACE NOW.
INSPIRING TALKS & IMMERSIVE WORKSHOPS
AROUND KEY PRINCIPLES
OF THE BOOK
KNOW YOUR PURPOSE
HOW TO DISCOVER, DEFINE AND UNLEASH THE POWER
OF PURPOSE TO INSPIRE EMPLOYEES AND DRIVE GROWTH.
INSPIRATION SESSION
9:40AM
Justin Dillon,
FRDM
A professional musician turned filmmaker and social entrepreneur, Justin Dillon is the founder and CEO of FRDM (pronounced free•dom), an award-winning platform that brings together consumers, organizations, and businesses to disrupt the $150 billion business of human trafficking. He is also the author of the best-selling book 'A Selfish Plan To Change The World.'
INNOVATION SESSION
10:20AM
FRDM
Justin Dillon takes you deeper into how FRDM works with major brands, sharing success stories and insights. If you or your company would like to find out more on how to partner with FRDM to end modern-day slavery, this is the session for you.
INNOVATION SESSION
10:20AM
Let's Work
Do you want to have meaningful connections with women who are interested in helping each other? Jessica Resler, Creative Director of The Participation Agency, and one of your GITNC 2019 hosts, is here to help. In this session, we'll discuss the idea of passing a hand down and up to create change. Let's Work is a monthly coalition for women who work, hosted by experiential marketing agency, The Participation Agency, with monthly community events held in New York and Los Angeles. The Let's Work community is setting the tone for a new era of female rights where they mobilize together, building their networks and dominating in the fields of creativity, communications and entrepreneurship.
INNOVATION SESSION
1:05PM
Seedpod Sessions
Come learn how healthy soil and wildflowers are vital to heal our California home. No green thumb, no problem! Community Healing Gardens)is all about uniting community through education and fun, easy tools like seed bombs. This hands on purposeful workshop led by CHG's Co Founder Nicole Landers will include a seed bomb how-to demo with the opportunity to make and take home your own, while seeds last!
THINK CITIZENS, NOT CONSUMERS
HOW TO ENGAGE WITH AN AWAKENED AUDIENCE WHO ARE EAGER
TO PARTICIPATE IN SOLVING SOCIAL AND ENVIRONMENTAL PROBLEMS.
INSPIRATION SESSION
11:30 AM
Lessons Learned From L.A. Kitchen
Robert Egger founded L.A. Kitchen whose motto was 'Neither Food Nor People Should Go To Waste,' an ambitious and inspiring social enterprise to fight food waste, train workers from the formerly incarcerated to kids aging out of foster care, and feed seniors nutritious, healthy meals. But after six years of operations, it closed on November 1, 2018. Now for the first time, he reveals the story of what happened, and the lessons and insights he learned along the way on how to deal with its failure.
INNOVATION SESSION
12:35PM
How to Rise Up When You Get Knocked Down.
If you're a social entrepreneur or non-profit leader who wants advice, Robert Egger is here to help. After decades of experience on the frontlines of the non-profit world, he is now the Founder of F***ing Shit up', dedicated to inspiring a new generation of leaders. If you want to talk policy changes, deal with difficult donors, start a new philanthropic revival or organize nonprofits to maximize their political rights, this is the session for you. No holds-barred, honest and from the heart, consider this a Masterclass on how to f*** shit up for good.
INNOVATION SESSION
12:35PM
City Light Capital
Do you want to make a difference via capitalism? Josh Cohen believes that how you make money (and what you do with it once you have it) matters and wants to help improve the world, now. Prior to founding City Light, Josh led direct investments and worked in venture capital, and was a Partner in a private debt fund. He co-founded (and is a Board Member of) The ImPact, a member network whose mission is to inspire families to make more impact investments in an effective way. Learn more about measuring your impact in this session with Josh from NYC based firm, City Light Capital.
INSPIRATION SESSION
12:05PM
Food is the New Cool
Join us for a fascinating discussion on the power of food to drive social impact in Los Angeles, with Sam Polk from Everytable, Crystal Ortiz from Twice New, and Ajay Relan from Hashtag Lunchbag.
INSPIRATION SESSION
11:50AM
Eunique Jones Gibson
Eunique Jones Gibson is a creative powerhouse for good. A Visionary, Cultural Architect and Social Activist, Eunique is the creator Because of Them We CanTM (BOTWC) an award-winning campaign and platform that reaches 60MM people per month with custom and curated content that extracts and amplifies the good on a daily basis.
 Eunique will share how her belief in the power of people, purpose, laughter, chocolate, and the relentless pursuit of dreams has helped her to build BOTWC from an idea into one of the most trusted and celebrated media platforms in the country.
INNOVATION SESSION
12:35PM
AllSwell Creative: Journaling Session
Up-level your experience at GoodCon with
an impactful pen-to-paper workshop. Process the information and connections you're making and walk away with crystalized intent and action plan. While you're at it, learn some of the science behind why an analog journaling practice is an important tool for any leader looking to create change, particularly in this digital age.
DON'T ADVERTISE, SOLVE PROBLEMS
HOW BRANDS AND NON-PROFITS CAN COLLABORATE TO GO BEYOND ADVERTISING AND ACTUALLY SOLVE PROBLEMS IN PEOPLE'S LIVES.
INSPIRATION SESSION
2:25PM
Beto Fernandez & Paco Conde, Activista
Join Paco Conde and Beto Fernandez, founders of Activista, a creative company committed to driving social, economic and cultural change through the power of ideas. Paco and Beto are behind some of the most extraordinary and award-winning ideas of the last few years, being recognized by the Cannes Report among the Most Awarded Creative Directors in 2013, 2014 and 2015 (including Dove Real Beauty Sketches for which they won the Cannes Lions Grand Prix.)
INNOVATION SESSION
3:20PM
Activista
Join the award-winning founders of Activista, a creative agency whose motto is 'Extraordinary Ideas for Extraordinary Times,' for a masterclass on their groundbreaking approach to their work, focusing on how to create powerful initiatives that inspire people and provoke change, centered around their mantra 'ACTS NOT ADS.' You can also join them to find out how to help take their groundbreaking platforms like 'Immortal Fans' and 'United States and Oceans Project' to even wider audiences worldwide.
INSPIRATION SESSION
3:00PM
Zeppa Kreager, Civic Nation
and Jason Harris, Mekanism
Join Zeppa Kreager and Jason Harris from The Creative Alliance, a band of creative and communication experts who use their powers for the good of the country. The advertising and media world is at the cutting edge of social influence—and in today's social climate, it's time to use that power to change the world. Zeppa and Jason share insights and lessons on two of their recent initiatives – the 'It's On Us' campaign to end sexual assault on college campuses, which features high profile supporters from Lady Gaga to Vice President Biden, as well as '#VoteTo-gether,' an innovative way of making voting more celebratory and fun to drive turnout.
INNOVATION SESSION
3:20PM
Creative Alliance
If you'd like to join the Creative Alliance, or offer your talents to help either the 'Its On Us' or '#VoteTogether' campaigns, then this is the place for you. Join Zeppa as she dives deeper into plans for 2019 and ways in which brands, non-profits and culture creators can participate to help make the initiatives even more powerful.
INSPIRATION SESSION
2:40PM
Making the Impossible, Possible
Join Zenia Tata, Chief Impact Officer of XPRIZE as she talks to David Hertz and Dr. Emily Church.
David Hertz will share his journey to create his invention that won the $1.75 Water Abundance XPRIZE, powered by the Tata Group and Australia's Aid Program. The winning device, WEDEW, can extract 2,000 liters of water a day from the atmosphere (enough for the daily needs of around 100 people), while using clean energy, and costing no more than 2¢ a liter.
Zenia Tata will also speak with Dr. Emily Church about the $15M Global Learning Education XPRIZE, a global competition to create cutting-edge learning software designed to reach the 250 million children around the world who cannot read, write, or do basic math. There are currently 5 finalist teams competing for a $15M prize purse put up by Elon Musk, and who are currently conducting field tests across 150 villages in rural Tanzania. The finalist teams' software will be open source, which means the code and data will be freely available for anyone, anywhere in the world to build upon. When XPRIZE announces the winner in May 2019, the real work begins. Learn how YOU can be a part of this global revolution in learning.
INNOVATION SESSION
3:20PM
Global Learning XPRIZE
Join Zenia Tata and Dr. Emily Church to learn more about how you can collaborate and help with the $15M Global Learning XPRIZE, a global competition to create cutting-edge learning software designed to reach the 250 million children around the world who cannot read, write, or do basic math. Be a part of this global revolution in learning.
LEAD WITH THE COOL, BAKE IN THE GOOD
HOW THE POWER OF COOL (STORYTELLING, DESIGN, ART)
CAN HELP INSPIRE PEOPLE TO DO MORE GOOD.
INSPIRATION SESSION
4:30PM
The Power of Kindness
The purpose of the Born This Way Foundation is to create 'a kinder, braver world.' Join Executive Director Maya Smith to find out how this ground-breaking organization leverages the power of cool via its founder and patron Lady Gaga to create social and cultural capital, and leverages it against the transformative power of kindness.'